Webinar Overview
In this webinar, Paul Parkinson, the Director of Product Development for Contec Americas Inc., will highlight some major technology challenges that connected factories face.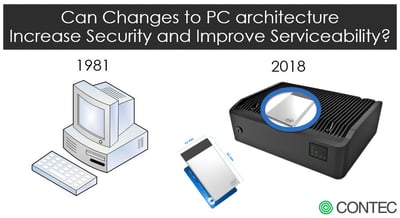 You will learn about:
Service and support challenges with a secure cloud connected network

Electrical breakpoint security and how this concept can improve the security and accessibility of the network for service/support

Introducing a revised PC architecture to improve security and serviceability

Benefits of hardware breakpoint and hardware segmentation security enabled by the Contec C5 architecture
You'll also get a sneak peek to "the first true redesign of the PC since inception!"
About Paul Parkinson
As the Director of Product Development for Contec Americas Inc. Paul is dedicated to creating innovative PC solutions that solve challenges related to cost of service and support across a variety of markets globally. For more than 25 years Paul has been recognized as an industry expert who has led the successful development of a variety of PC hardware, chassis, BIOS modules, POE power modules and application software technologies.
Paul has worked in harmony with the Intel channel building new form factor designs dating back to the ATX standard days. Through this successful partnership, Paul positioned Contec to be selected as a Regional Developer of the Intel Compute Card. His commitment to excellence and customer satisfaction are the foundations of his product development.
About Contec Americas Inc.
Contec is a rapidly growing computer hardware manufacturer and is recognized as a world leader in Industrial PC and DAQ manufacturing. Contec also provides custom technology solutions for OEMs in the medical device, military, aerospace and government markets. Contec brings value to customers through a variety of value add services that include product design and innovation, life cycle management, logistics and post production support.